ARYLAN SHOW NEWS

July 17-20, 2014. Houston, Texas
Houston's premier dog show was action packed as usual this year. Don't know the total entry
but it's a big 'un. Cardis too in part because we had a specialty on Thursday and that always
draws entries. We entered 5 on Thuirsday and 3 the other days. 4 puppies, including Magellan,
and 1 adult, Angie, who only needs a few points to finish her CH. The judging was generally
poor. Too many judges cannot think for themselves and do the easy thing, which is to give
the win to the professional handler. That was the case for the first 2 days. The judge on day
3 has a thing about blue merles. I know because I've won under him with a blue merle. So a
disproportionate number of his winners were blue merles. Finally on day 4 we got a judge
who did a conscientious job and wasn't there to play favorites. As a result Magellan was
able to win his class and Angie won reserve winners bitch. A respectable if not completely
satisfying result. Still, it was such a relief after the first few days that we were elated. Angie
was easily the best moving bitch in the ring but she kind of plods along letting everyone
know she'd rather be elsewhere. That doesn't usually win points. Fortunately, she only
needs a few points and already has her majors, given by judges who are fans of good
movement. We learned things about our dogs which is always worth the price of entry.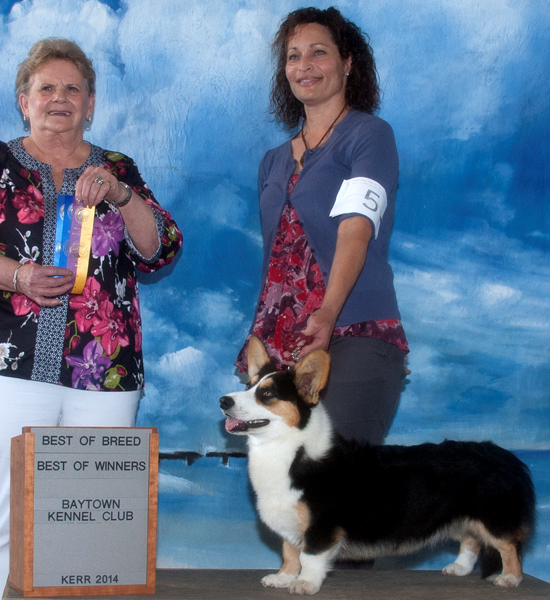 Arylan's Magellan
Arylan's newest special boy is, above all, FUN TO SHOW! Magellan likes to have a good time.
He is cooperative almost always. He and Helen are natural ring partners but I'll get a chance
to show him every once in a while. We intend to use him to great effect on a couple of our
bitches. If you like his length of body, short hocks and pasterns, short snout, excellent wrap and
turnout from the front view, you might want to consider using Magellan. Did I mention his almost
ideal temperament. His two grandfathers are Arylan's Oz and Live Oak Try Tri fer Gold (Burney)

There has been a dearth of show news here at Arylan for some time. The few shows I've entered were fun but didn't yield
much in the way of wins.. Some of you understand that I'm now operating in Housrton, my new home. No one understands
this better than Helen, my new fiance, and roommate. With her help, I handled Pebbles to a 1 point win back in December, and
she is oh so fun and good natured. I look forward to getting out every time with her. Check back and I expect you'll start to
see some wins. One thing, though. Houston is also home to Sheri Hurst and Lois DeMers, two of the finest handlers ever to
grace a show ring; I don't expect to pile up wins going up against them. Helen and I are thinking about getting out on the road.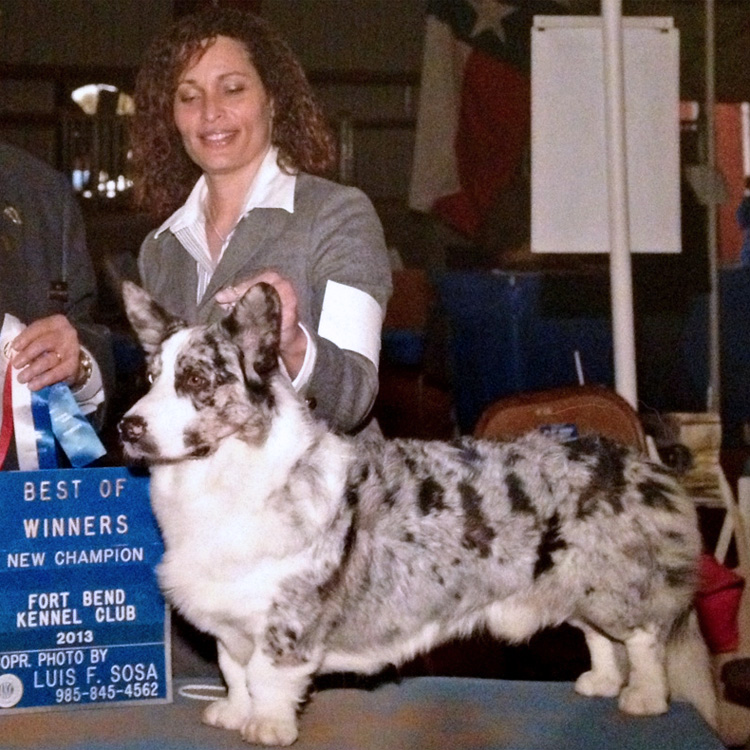 There was never any doubt that Owyn would finish his championship, especially given that he got his 2 major wins his first weekend out.
Helen took her time and had fun with it. And that's how it should be. I really like this boy. He has a wonderful temperament. Great
stamina and athleticism. You can see he's beautiful. I think he looks silver, hence the name Arylan Silver Service. Next is to be bred
to our girl Angie. It could be fantastic. They really like each other too. Wonder if they're trying to tell us something.
June 27 - July 1, 2012. Oklahoma City
This is a show that has typically been good to me and it continued this year except for some
overwhelmingly bad news, which I will start with. On the first day there we were met with
some fairly loud road construction nearby our RV site in the form of jackhammers tearing
down the old I-40. It didn't seem all that loud to me, although maybe the ground shook a little.
The other dogs came outside and did their potties without complaint. When Oz was left in
the x-pen to potty and stretch his legs he was apparently very spooked because within
minutes he had forced his way out of the x-pen (almost unheard of occurence). We were just
inside the motorhome. A good neighbor called out to Oz but instead of coming, in Oz fashion
he started running down the road at lightning speed. I say in Oz fashion because the previous
year he escaped from a vet clinic in Houston and seemed to want to be on his own and ran
super fast from anyone who tried to get him. Thus began a weeklong search for Oz that
resulted in his being found dead on the interstate. Oz was super devoted to me and I do
not understand why he didn't return to the motorhome to be with me. He had less use for
any other person or dog than for me. I went out calling for him but no response. Rest
peacefully my lovely boy. You will be able to cradle your head in my lap again someday.

On the first day Owyn (Arylan Silver Service) took WD/BW for a couple of points to draw within
1 point of his championship. Angie (Arylan Papa Was A Rolling Stone), an Oz Daughter, was
reserve winners bitch. On the second day Rider (Arylan Custom Goldwing)(Oz son) finished his
championship and looked darn good doing it. Rider also took a group 2 in the bred by exhibitor
group competition. Owyn was reserve to Rider. And Angie was reserve winners bitch again.
The 3rd day started with a sweepstakes judged by Elizabeth McNair, a breeder I respect.
Against serious competition Angie won Best of Opposite in Sweeps (best bitch basically).
We didn't do anything in the regular classes. On the 4th day Owyn took reserve winners dog.
I'm pleased that although the judging varied considerably Arylan was in contention almost every day.

May 12-15, 2012. Albuquerque
At Albuquerque this year Oz easily completed his grand championship with two Best of Breed wins.
He also did a pretty darn good job in the group ring and got pulled on the second day which is not
bad considering how pro handler heavy this show is. When I see this photo of Angie I realize how
attractive she is to a good judge even though she is not flashy. A good judge will find the best dog.
Angie now has both of her majors so it should be smooth sailing from here to her championship.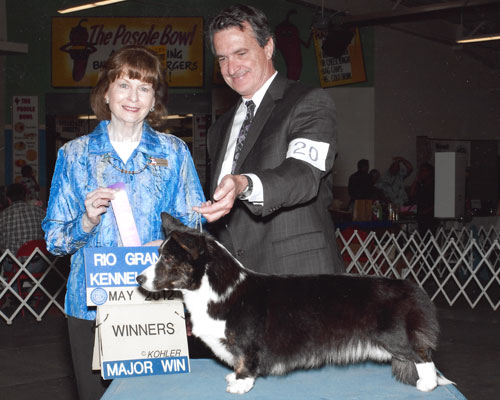 Looks like Rider had a pretty good time at our Nationals show this year with handler Sherri Hurst.
He got second in his class. With the right judge I think he's good enough to win it all like Dad
Oz did last year. Oz has lots of pizzazz but Rider is probably the sounder dog. And Rider appears
able to produce top quality children as a visit to my puppy page will confirm. I don't expect anyone
to step up and use Rider's quality any more than they did with Oz - except for my good and
wise friend Jinnie Strickland. In fact, Jinnie's bitch Lindy produced something much better than
herself by going to Oz. You must be very cognizant of your bitches faults when stud shopping.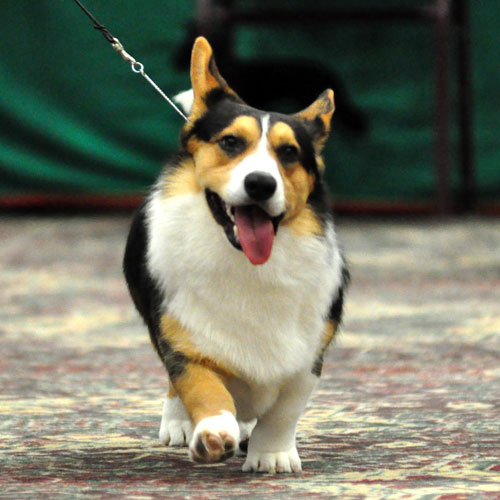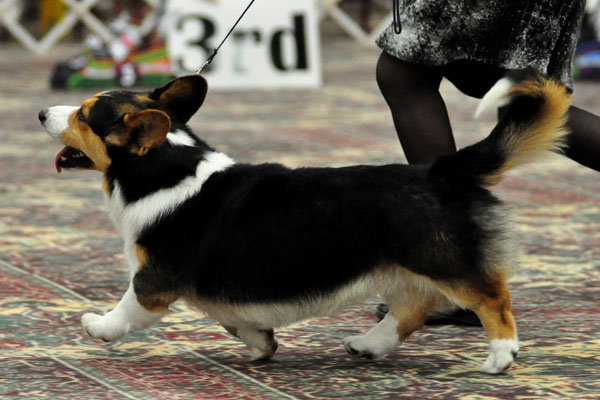 Owyn is flat moving out in the below photo from Nationals. While he took 2nd in his class (to Winners
Dog) a lot of people thought he should have been first. I think he's just about as nice as you can fnd.
March 24-25, 2012 Ft. Worth, TX
A fun, well run show a bit far from home for me to attend
regularly. We were lucky to have a judge the first day who
couldn't take her eyes off Angie. Said she has the "English
look" which works for me. In addition Oz keeps picking
up points toward his grand championship.


February 4-5, 2012 Hobbs, New Mexico
It was GOOD to get back out to a show, even Hobbs, a little
show where I haven't done all that good lately. Well, scratch the
"little." We had the biggest entry at the show with 27 Cardis.
And scratch the second part too. On Saturday Rider took
Winners Dog and crossed over for Best of Winners for a 4
point major! What made it extra pleasing was that the judge
seemed to know Cardis, making sound choices overall. And she
commented about "Winners Dog" in a later conversation, meaning
Rider really made an impression on her! On Sunday I held
Rider back. He is supposed to compete at our Nationals show
in April and I need him unfinished so he can compete with
the other newbies which is what he still is at 14 months.
If you've read Lia's page you know she's given me a challenge
trying to get her to pick her ears up and give me the "expression"
Cardis are required to have. She's been hit and miss. In class
she's gotten consistently better but although it's noisy it's not
as distracting as an indoor show. On Saturday she sort of
barely did it when I threw a second piece of bait. On Sunday
for whatever reason she just seemed to love the hissing sound
the judge made when he walked down the line looking for
expression and those ears just popped right up there.
Result? Winners Bitch for a 4 point major, her first
points! So, where I had been very worried about Lia
I'm now feeling hopeful that she'll glide to her CH.
Gosh knows she has everything else she needs to do it.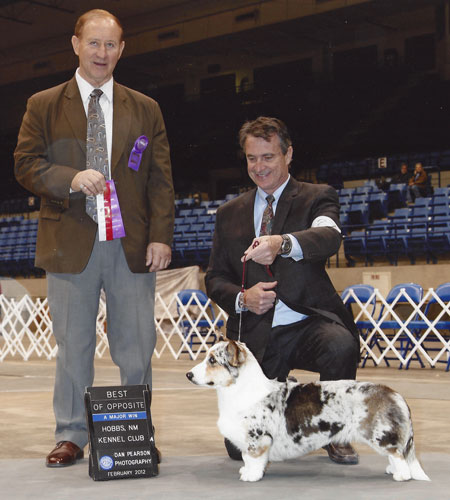 November 18-21, 2011 Tucson
I was ITCHING to get back out to some shows!
True, there was Los Lunas NM right at my back doorstep
in October where Angie got reserve one day from the 6-9 mos.
class. But we know Angie's going to be a star. She just gets
better and better! The only negative things I have to say
about her are her non-flashy markings and aggressive response
when unknown dogs try to sniff her. Other than that she looks
and shows beautifully. In Tucson she took winners bitch for
1 point each day she was entered. Rider did the same thing
for 2 winners dog points. Oz got 2 grand ch points by getting
Best Opposite both days he was entered. Other than that it
was ring experience for Lodi and Lia, who both performed
pretty well. The new motorhome did well also and will
make my travels more comfortable in the future. Next
up will be Hobbs in early February. I hope to get several
shows in before Chickie and Lodi breed in the spring.
June 30 - July 3, 2011 Oklahoma City
Oh . . . My . . . Gosh! Arylan has been on a roll in 2011 and
the OKC show came close to outdoing them all! I drove down I-40
just looking for some practice for my 6 and 8 month old boys, Rider
and Owyn. The OKC show is very well run and I like doing it but
was wondering whether it was really worth the cost - gas prices being
what they are - just to enter Rider and Owyn in their first shows.
Add to that a blistering heat wave that kept daytime temps up
over 100 degrees and a bad attitude could result! Well, No attitudes
here except gratefulness perhaps. On Thursday Owyn stepped into
a show ring for the first time in his short life and captured the judge's
attention and Best of Winners for a 4 point major! During photos
I said something to the judge about Owyn being a flashy boy and he
replied, "but he has the substance to go with it." Yes! Owyn repeated
again the next day for a 3 point major. Wow! The weekend was more
than a success already! Don't know what it was but Owyn started
getting silly after that, bouncing around like he knew everybody was
watching him. Enter Rider. 6 months old, barely out of diapers.
Cruised around that ring so effortlessly, head held a mile high, big
smile on his face. 4 point majors on Saturday AND unday!
Owyn was out of coat but it hardly showed because his is so thick
and luxurious. Not so with Rider. "Threadbare" comes to mind,
undercoat colors showing through a thin topcoat. Nothing extra
at his collar. Skinny tail. If the judges love that just wait until
he grows back the coat I know he has. Wait until he really knows
the ring. Wait until his chest drops and he looks more like Daddy
Oz. Could not be prouder of these 2 boys. They also handled
the whole weekend beautifully, as did all the pups I had along.
Owyn went back to Houston with Helen Keever where he will
give her many more proud moments in his show career. I'm going
to stay up on this cloud for a few days and then prepare myself
for the inevitable return to reality. It can't be like this all the
time but once in awhile sure is nice! Show photos to follow.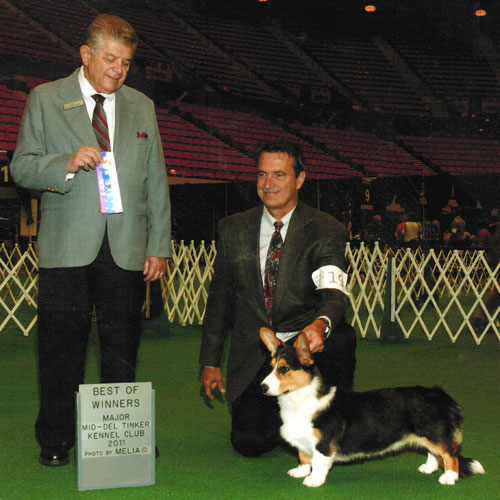 Rider Getting a 4 Point Major
May 14-17, 2011 Albuquerque, NM Arylan's lucky streak
continued with our home town show where Oz stepped into the ring
for the first time since Nationals to pick up the last major needed
to complete his championship. On the same day his Mom Chickie
picked up the last needed major for her championship and little 6
month old Enna was awarded reserve winners bitch behind her
Mom! That's a day for the memory bank! On the next day Oz
made his first appearance as a special and received Best of
Opposite Sex behind his favorite handler Sherri Hurst who
on the BOB bitch Libby went on to take a herding group 1
placement! Not to be overlooked, Enna wowed the judge for
a first major win in her very first show weekend. What a doll
she is - but she is mine no more. Judge Steve Gladstone spotted
her and literally made up his mind instantly to take her home.
Turns out she reminds him of the early look of his Aragorn
Cardigans many years ago before he became involved in tireless
work for our Cardigan Welsh Corgi Club and the American
Kennel Club. We are honored to help bring Steve full circle and
give Enna an opportunity to truly be an emissary for the breed.
She is out with Sherri now spreading the gospel of Cardidom!

Oz - New Champion!



Enna - First Major Win!
April, 2011 CWCCA National show in Houston TX
I was much too busy getting Addy's puppies into their homes and
other matters to attend this year so I asked Sherri Hurst to show
Oz for me, and I'm glad I did. She put the extra finish on him
that an experienced handler knows how to do and the result
really shows on the video as Oz moves along at a perfect gate,
head held high, looking like he knows he is the best. Both of our
respected judges agreed. Susan Lasilla, a long time Cardi breeder
(Shadowalk) gave Oz Best of Opposite Sex in the puppy sweeps,
while Judge James Reynolds, known for judging some of our
nations big shows, awarded Oz Winners Dog and Best of Winners
in the class competition. The fact that the judges agreed on Oz
provides the best confirmation as to his quality. This is Arylan's
biggest win to date and lets me know that I'm on the right track.


10/8-10/11/10 Alamagordo NM With results similar to Amarillo last
month, Oz took the single dog point on each of the 4 days while Lodi
managed to capture out 2 of the 4 available bitch points. It was fun
showing against friend Jinnie Strickland of Solstice Kennels. The
judges probably liked seeing us help each other get our dogs into the
ring, and they complimented us on the overall quality of the entry.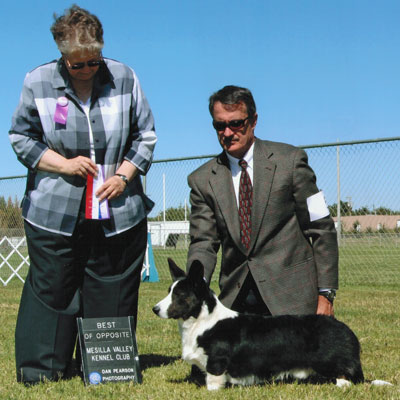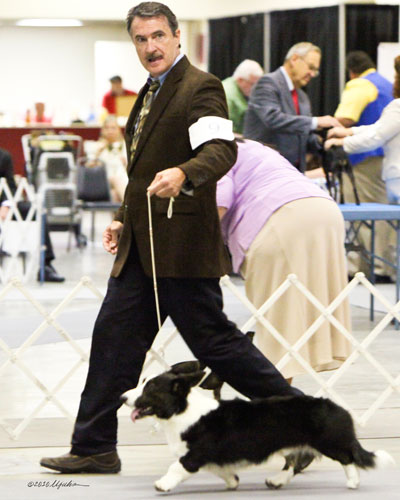 Keeping an eye on the judge in Amarillo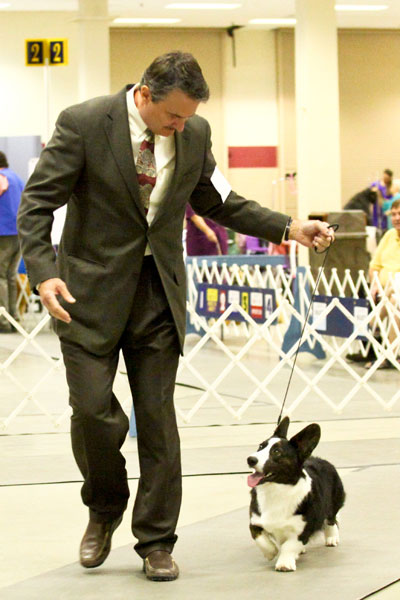 Harry & Oz

9/2-9/5/10 Amarillo TX A small, friendly show that I and the Arylan
crew really enjoyed. Hope to return every year. And hope the same
judges will return as well since Chickie and Oz took 6 of 8 available
points thanks to the judges' appreciation of good movement.
LIKE MOTHER . . .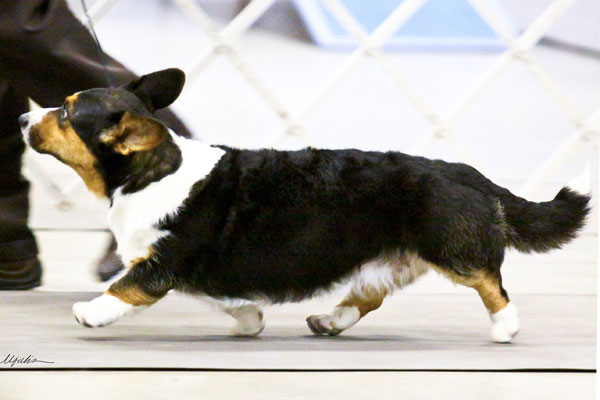 Eklectic Arylan Chiquita Banana
LIKE SON.

Arylan Mint Proof (Oz)

[photo credits: MalindaJulien.com]


5/16/10 Albuquerque Otto (Arylan Calling An Audible) wins
a 5 point major at 9 months of age! Lily (Arylan Gilded Lily)
takes reserve to a 5 point bitch major [which was won by Arylan-bred
NEW Champion Arylan Flying Start. Congratulations Lindy & Jinnie!]
Lily, appearing in very her first show, took 1st in the 6-9 puppy bitch
class 3 out of 4 days that weekend. Her litter sister Banner (Arylan
Flying the Colors at Solstice) was 2nd in the same class on both
days that she was entered. Not a bad weekend for Arylan!

Arylan Calling An Audible
3/26/10 Tucson With 5 dogs competing Otto (Arylan Calling
An Audible) is reserve winners dog on his first trip into a show ring.
6/27/09 Oklahoma City Chickie takes Reserve Winners
Bitch to a major in a supported entry - her best finish to date.
The following day 6/28 Judge Carmen Battaglia awards her
Best of Winners for a 3 point major. Chickie has arrived!

6/6/09 Colorado Springs Wham picks up the final
point needed to complete her championship.

5/15/09 Cortez, Colorado Wham is winners bitch on the first
day of the Cortez 3 day cluster for her fourth major win, which
brings her within a single point of completing her championship.


5/10/09 Albuquerque, New Mexico Addy takes a 3 point major on the 2nd
day of the Albuquerque shows to finish her championship with a total of 4
major wins. During the photo session the judge informed me that he had
extensive experience presenting cardigans as a professional handler and
recognizes a quality Cardi when he sees one..



5/10-5/11/08 Albuquerque NM The tag team of Addy and
Wham is back in action as Addy takes winner's bitch on Saturday
and Wham follows suit on Sunday. Both 3 point majors.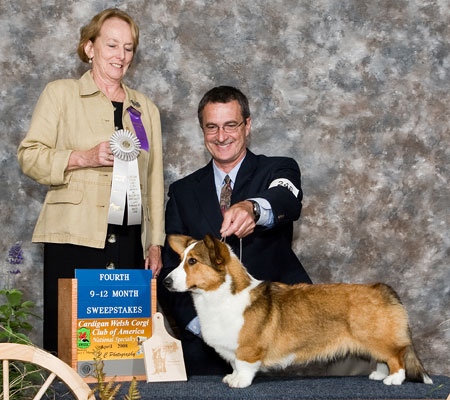 4/16/08 2008 CWCCA National - Ft Mitchell, KY
June takes 4th in an entry of 24 bitches in 9-12 puppy sweeps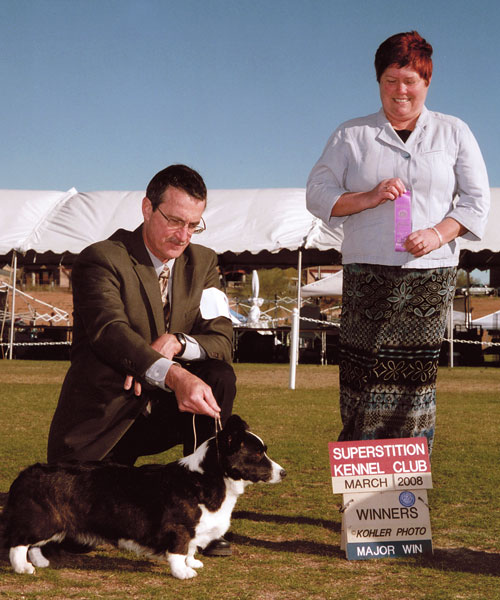 3/3/08 Addy follows suit with a 3 point major - her 2nd - on the last
day of Scottsdale. 3/9 - the following weekend - she adds another 2
points on the last day of the Garden City, Kansas three day cluster.


2/29/08 Wham takes her 2nd major win - a 4 pointer - against
quality competition on the first day of the Scottsdale cluster.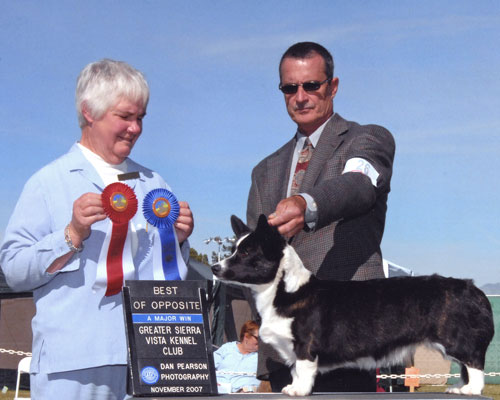 11/18/07 Addy goes over specials for a 4 pt major in Tucson - her 1st win!
A friend says I look Mafioso. I say, "Bada-bing, this judge knew what she hadda do!"